Reading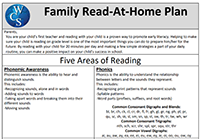 You are your child's first teacher and reading with your child is a proven way to promote early literacy. Helping to make sure your child is reading on grade level is one of the most important things you can do to prepare him/her for the future. By reading with your child for 20 minutes per day and making a few simple strategies a part of your daily routine, you can make a positive impact on your child's success in school.

Writing
Reading & Writing online resources
https://wcskids.benchmarkuniverse.com/

user name:  warren_edu
password:  password

Directions:

Click on My Library.
Pick Grade Level.
Scroll down to ebooks.
Select a book to read.
Press play to have read aloud.



https://www.uniteforliteracy.com/

Description:
At Unite for Literacy, we picture a world where all children have access to an abundance of books that celebrate their languages and cultures and cultivate a lifelong love of reading.



https://www.storylineonline.net/about-us/

Description:
The SAG-AFTRA Foundation's award-winning children's literacy website, Storyline Online, streams videos featuring celebrated actors reading children's books alongside creatively produced illustrations.
---

Math
Preschool: identify numbers, identify shapes, make patterns
Grades TK-2: practice counting forwards and backwards, identify numbers, practice basic addition & subtraction facts for 20 minutes per day
Grades 3-5: identify numerals from 1-1,000,000, practice basic multiplication and division facts for 20 minutes per day
Math online resources
Description:

Math Skills Practice- Free access to games for students to practice their basic math skills.



http://bedtimemath.org/Description:
Just 5 quick minutes of number fun for kids and parents at home. Read a cool fun fact, followed by math riddles at different levels so everyone can jump in. Your kids will love you for it.

https://www.youtube.com/user/JackHartmann/featured

Description:

Our songs for kids and educational videos will help your children learn counting, numbers, reading and language skills, nursery rhymes, science, physical fitness, dance and movement. Children actively participate in all the learning with lots of movement and fun. These songs for kids have a tremendous diversity of musical styles from pop, Hip-Hop, Latin, country and rock.
---
---
Science online resources
ESL
---
Technology
---
Virtual Field Trips
---
All Content Areas
https://learn.khanacademy.org/khan-academy-kids/

Description:
Khan Academy Kids is a free, fun, educational program designed to inspire young children to become learners for life. The robust Khan Academy Kids curriculum and original content make learning engaging and fun for children ages two to seven.
https://mysteryscience.com/school-closure-planning

Description:
All of the lessons are expertly designed to engage students, achieve learning outcomes, and be easy for parents and teachers to use. These short mini-lessons are completely digital and full lessons that include an activity. All of the activities are designed to use simple supplies a parent will likely already have at home.
Description:
GoNoodle® engages 14 million kids every month with movement and mindfulness videos created by child development experts. Available for free at school, home, and everywhere kids are!
Other
https://www.parenttoolkit.com/

Description:
A one-stop resource developed with parents in mind. Includes information about almost every aspect of your child's development, because they're all connected. Healthy, successful children can excel in many areas – in the classroom, on the court, and in their relationships with peers and adults.